Your trusted local licenced electrical contractor on the Gold Coast
Are you in need of an electrical contractor on the Gold Coast? Pugin Power is a trusted and reliable electrical contractor that has been servicing the Gold Coast for many years. We offer complete electrical services, from installations to repairs, so you can rest assured that your needs will be taken care of.
With our experience and expertise, you can be confident that your electrical needs will be handled quickly and efficiently. Pugin Power electricians pride ourselves on providing quality service at a fair price, so you can be sure that you're getting the best value for your money.
Pugin Power electrical contractors can take care of all your residential and commercial electrical needs. Servicing the Gold Coast and Tweed Heads area through to Logan and Brisbane's southside. Book an electrical contractor today.
BOOK AN ELECTRICAL CONTRACTOR TODAY
Call us at 1300 150 753 or fill out the form and we will get in touch with you as soon as possible.
What is an electrical contractor?
A business which provides electrical work services for others must hold an electrical contractor license in Queensland. An electrical contractor may employ licensed electricians to carry out work under their supervision.
You must hold an electrical contractor license to perform electrical work for others as a sole trader, partnership or company. WorkSafe QLD
Electrical contractors are required to hold product and public liability insurance of at least $5 million to cover all work performed by the contractor or any electricians working under the contractor's license.
There are several types of electrical contractor licenses in QLD:
Gold - can carry out all types of electrical work such as ceiling fan or power point installation, switchboard & safety switch installation, aircon installation, electrical system & appliance repairs, or altering wiring or fixed appliances.
Silver (restricted) - restricted to the testing, maintenance & repair of the type and voltage of electrical equipment listed on the license. A person using this license is not permitted to install electrical equipment.
If you are unsure as to whether your electrician or electrical contractor is licensed to do the work you need you can carry out an Electrical License Holders search here - worksafe.qld.gov.au. This will provide information such as what type of license they have, whether it has expired, as well as if any restrictions apply.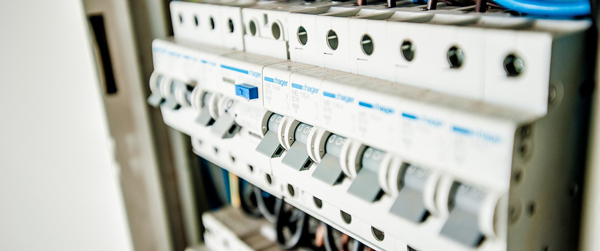 What type of electrical services do our contractors offer?
Pugin Power holds a Gold (or full) Electrical Contractors license which means we are licensed to carry out a full range of electrical installation, repairs, testing, and maintenance services.
Pugin Power's Electrical Contractors License number is 78933.
Our experienced electricians and electrical contractor can help with:
Electrical appliance installation and repairs - ceiling fans, oven, cooktop, stove
Lighting - home, LED upgrades, outdoor lighting, security, emergency lighting
Smoke alarms - installation, repairs and routine testing
Safety switches and circuit breakers
Wiring and rewiring projects
Air conditioning services - split system and ducted
Solar power - installation, repairs, testing and maintenance
Switchboard upgrades and fusebox replacements
If the electrical service you are looking for is not listed here give our team a call at 1300 150 753 we are sure to be able to help.
Excellent reasons to use our Gold Coast electrical contractors
We're fully licensed and insured to carry out all residential and commercial electrical work.
All work is completed to the required safety and industry standards.
Providing you with top-quality workmanship and customer service is a priority to every member of our electrical company.
We value your time - which is why we always strive to be on time for every job.
All our work is 100% guaranteed.

Residential & commercial electrical contractor Gold Coast
Looking for an electrical contractor you can trust to get all your electrical work carried out promptly, safely, and to all relevant state, industry and Australian standards?
For the very best in electrical services on the Gold Coast contact our experienced electrical contractors at 1300 150 753 or complete our quick online electrical contractor booking form today.
References: https://www.worksafe.qld.gov.au/licensing-and-registrations/electrical-licences/electrical-contactor-licences
https://ablis.business.gov.au/service/qld/electrical-contractor-licence/4138
Frequently asked questions
How often do you need a Test and Tag service?
How many smoke alarms do I need?
Benefits of upgrading to LED lighting