Local, affordable solar inverter repairs
If your solar inverter is in need of some repairs across the Gold Coast or Brisbane Southside, give Pugin Power a call today. Our fully qualified solar electricians are available to repair solar inverters of varying sizes, types, and brands, ensuring your solar system will be back up and running in no time at all. We assist both residential and commercial customers all across the region, so get in contact with our solar power team today to find out how we can assist.
QUICK SOLAR QUOTE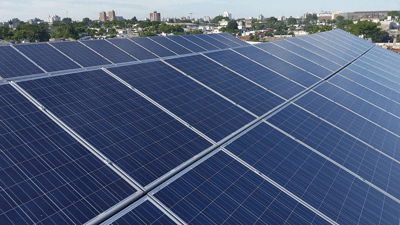 Why would your solar inverter need repairing?
When it comes to solar inverters, there are a few situations that can arise which result in your solar inverter needing a extra little attention:
A solar panel has a hot spot.
Water makes its way into a solar panel.
Your solar inverter is faulty.
The DC solar isolators at the inverter are burnt or melted.
These are only a few - if you have a sneaky suspicion that any of the above have occurred, or something different but you are still worried, give us a call and we are happy to discuss your solar repair needs.
What are the signs that your solar inverter needs repairing?
There are a few signs to keep an eye out for that may indicate your solar inverter needs repairing:
Your electricity bill has gone up, indicating your system isn't working as efficiently as it has been.
If your solar inverter is displaying a red light during the day.
If your inverter is displaying an error code.
Who can repair a solar inverter?
A fully qualified solar electrician is the only person who should be repairing a solar inverter for you. We never recommend completing any sort of work on your solar system yourself - it is safest to bring in the professionals to complete the job right.
Not only do they have the correct tools, training, and equipment to do the job, they can spot any other potential issues before they arise, as well as having the experience to do things effectively and efficiently (and did we mention safely?).
Why choose us to complete your solar inverter repairs?
At Pugin Power, we understand how important it is to ensure your solar system is in peak condition all year round. That is why we offer Gold Coast and Brisbane Southside homes and businesses top quality service and workmanship, with no job being too big or too small.
We are Clean Energy Council certified solar electricians, with extensive industry experience allowing us to provide advice suited to your exact solar needs, including budget. We wouldn't want our solar inverter to be working poorly, so you shouldn't have to either.
Dependable solar inverter repairs across the Gold Coast
For solar inverter repairs that you can rely on around the Gold Coast and Brisbane Southside, give our electrical team a call on 1300 029 795 or complete our solar inverter repair booking request today.