Your local Kelvinator wall split system air conditioner experts Gold Coast
Are you looking for a new air conditioner? Kelvinator air conditioning is one of the most popular brands on the market. It's known for its quality, durability and performance. And Pugin Power is the leading provider of Kelvinator air conditioning services on the Gold Coast. We offer complete installation, repairs and servicing for all models of Kelvinator air conditioners for all homes and businesses.
With our experienced technicians, you can be sure that your Kelvinator air conditioner will be installed quickly and efficiently. We also offer a wide range of servicing options to keep your air conditioner running smoothly all year round.
Contact Pugin Power today to find out more about our Kelvinator air conditioning services.
BOOK KELVINATOR AIRCON SERVICES NOW
Call us at 1300 150 753 or fill out the form and we will get in touch with you as soon as possible.
Kelvinator split system air conditioner features
Kelvinator offers both cooling-only models and reverse-cycle split system air conditioners. They are budget-friendly and come in various sizes between 2.5 - 9 kW.
Features of Kelvinator split systems include:
Wi-Fi connectivity
Bio-HEPA and ion filtration
Energy-efficiency rating between 2.5 - 5 stars
The Kelvinator Home Comfort app allows users to control their aircon with the help of their smartphone
Follow-Me mode directs the airflow towards the user
Kelvinator is an affordable air conditioning brand offering high-customer satisfaction and great value for money.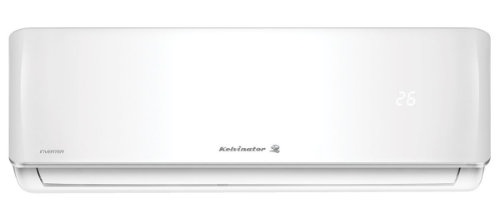 If you need reliable and affordable aircon you can't go wrong with purchasing a Kelvinator air conditioner from Pugin Power. Our technicians can assist you in selecting the right model that suits your requirements. Discuss your climate control needs with us.
Kelvinator air conditioning repairs and servicing on the Gold Coast
If your Kelvinator aircon needs repairs or servicing, our friendly technicians will be happy to help. Our team is fully qualified and specialises in all styles and models of air conditioners, servicing the whole Gold Coast, Logan, and southern Brisbane areas. Our workmanship is 100% guaranteed and we are sure you are completely satisfied with our services. So you can rest assured that your air conditioner will work as expected and if anything goes south, you can always reach out to us.
Kelvinator the brand
The American company was founded in 1914 and is now owned by the Swedish company, Electrolux. Kelvinator is one of the leading household appliance brands in the world. With its rich history of innovation and research, you are sure to find the right aircon system for your needs.
Great reasons to choose Pugin Power for your air conditioning needs
We have extensive industry experience allowing us to offer knowledgeable and practical solutions.
We provide complete air conditioning solutions throughout Brisbane, Logan and Gold Coast.
We are highly qualified and licensed air conditioning technicians.
We undertake regular training and remain up to date with the latest industry trends so you can rest assured that you will receive the best solutions possible.
We are passionate about providing the right solutions to our customers.
We strive to give our customers the best service to ensure they are fully satisfied.
We are fully licensed and insured.
We provide fixed pricing and upfront costs for all our jobs - no surprises or hidden costs.
Your trusted, local Kelvinator air conditioner experts on the Gold Coast
For reliable and professional installation, repairs and servicing for Kelvinator air conditioning systems in Brisbane, Logan and Gold Coast, contact us at 1300 150 753 or complete our online aircon enquiry form today.
Frequently asked questions
How to reduce your cooling costs in summer?
Which air conditioner is best for your home?
How often should you service your air conditioner?